easy Sports-Graphics 8 - PROFESSIONAL for Windows or MAC
---
${ $store.getters.currentItemVariation.variation.availability.names.name }
---
easy Sports-Graphics 8 - PROFESSIONAL for Windows or MAC
Brief summary:
The drawing software for the ambitious trainer, trainers in managerial capacity, authors, coaches, presenter! Create professional sports graphics very easily with easy Sports-Graphics 8. Application areas are for e.g. Planning of training, training documents, printing, web sites, screen presentations, magazine articles.
The outstanding features of easy Sports-Graphics:
Very quick and easy operation (no instruction necessary!)
You can save your graphics and change them without problems if required
Export to the internet and Power Point until printing perfectly
The software is installed on your computer and your data is saved on your computer, not on any other server.
Absolutely professional graphics
Free email support
Certified experts were involved in conceptualizing the software!
The most important graphics and functions in easy Sports-Graphics 8 PROFESSIONAL FOOTBALL:
More than 5000 professional player graphics
Different player categories, e.g. In football: standing players, runners, dribblers, passes, special kicks, figures for coordination training
Special figures: Trainer, Referee ad Linesman
More than 100 goalkeepers only in football
Football and handball: Men, Women, Boys, Girls
All graphics in two directions (mirrored)
Tricots in 10 colours, pants in 5 colours; shirt and pant separately coloured
Actions in 5 colours
Players and tools tiltable
Innumerable fields in each type of sport 2D, in perspective, halls
huge selection of accessories: Balls, gymnastic balls, hurdles, hoops, bars, rebound wall, gates, boxes, mats, coordination ladder with feet, etc.
Scale screen, multiple selection, copy & paste, etc.
Intuitive user interface
Selection of the image section during export
Image size selectable during export
Multi-line text
Tactical tools, automatic labelling
That's easy Sports-Graphics 8:
1. Creating sports graphics is child's play
easy Sports-Graphics helps you create professional sports drawings. With a huge selection of players, tools and actions such as running and pass routes features records exercises, games and moves. And the whole thing is very easy!
2. Select image section like in Photoshop
.
3. Perfect image export
4. Select figures by viewing direction
5. Object-Menus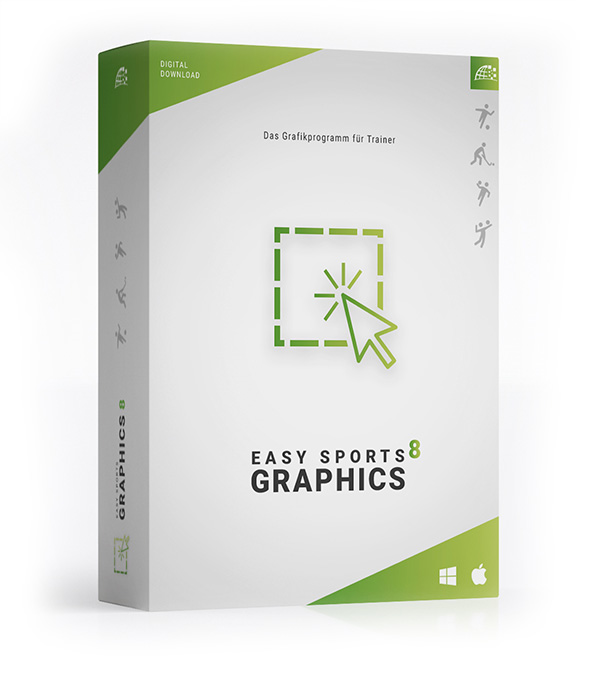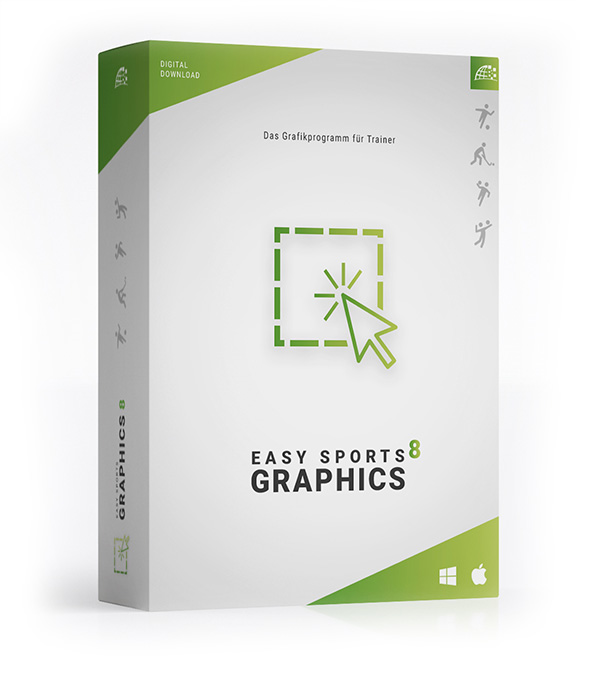 { "@context" : "http://schema.org/", "@type" : "Product", "@id" : "14476", "aggregateRating" : { "@type" : "AggregateRating", "ratingValue" : "5.00", "reviewCount" : "1" } }