T-PRO warning vest - with desired print
---
${ $store.getters.currentItemVariation.variation.availability.names.name }
---
T-PRO warning vest -
2 colors
top processed and extremely tear-resistant - bib
including desired print
You receive according to your wishes a printed T-PRO warning vest (bib). The vest is very well made and extremely tear-resistant. The material is suitable for printing, e.g. for advertising prints. Following colors are available: neon yellow or orange. Highly suitable for clubs, security companies or at concerts. The bib with lateral tabs is available in size XL. Here you can advise our graphics department about your desired print: e-mail: personalise@teamsports.com. The price refers to a one-sided warning vest. Graduated prices for larger quantities and surcharges for double-sided printing can be found below in the table. You can also buy T-PRO warning vests without print in our shop. Also professional clubs buy from us.
Product details:
T-PRO warning vest with desired print

bib with lateral tabs

Size: XL (one size)

Size: approx. 44 x 67 cm (W x L)

Colors: neon yellow or orange

Material: 100 % polyester

Packaging: individually in a poly bag

Print: one-sided or double-sided also colorful

Print designs: text, logo, emblem, number, advertising etc.

Contact graphic department:

e-mail: personalise@teamsports.com

Quality: durable, high-quality processed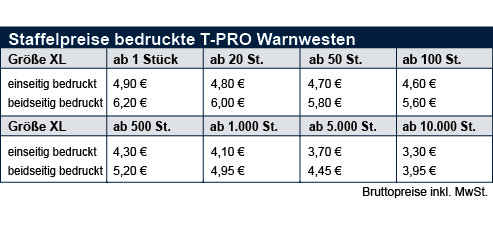 PRINTING:
No matter whether they are text, logo (vector graphic), emblem, number, advertising,
sponsor, etc. just e-mail us your request for the print.
E-Mail: personalise@teamsports.com
Please e-mail club logos or any other logo always as a vector graphic! For a complex logo or graphic processing a surcharge is added.
You receive a detailed invoice with every purchase!
Lots of success when securing!