Sprint sledge (weight sledge)
You get a modern sprint sledge including a span shoulder strap and quick release system. The sprint sledge can be equipped with weights (hole diameter from 20 mm), to pull it with resistance either on the training ground or through the sports hall. The sledge has to be pulled with the support of the shoulder strap, which is included. This sprint sledge (weight sledge) can be used in several sports, and is already widely used by German professional clubs. You get the sprint sledge with the dimensions (L) 50 cm x (W) 37 cm x (H) 6 cm. The weight sledge comes complete with shoulder strap and has a weight of about 9 kg. The hole diameter for the weights should be at least 20 mm. The sprint sledge is a great support for a modern and innovative training. The matching exercises and weights can be bought in our shop.
Product features:
High quality sprint sledge

Including span

Dimensions: 50 x 34 x 6 cm (LxWxH)

Hole diameter for Weights: about 20 mm

Color sprint sledge: Yellow

Color span: Black

Very strong and versatile

Professional goods.
Good luck with your training!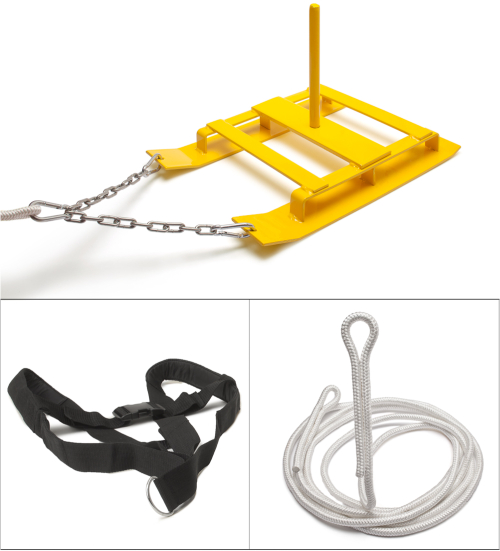 Sprint sledge (weight sledge)
Sprint sledge ideal for innovative sprint and power training
---
---