T-SHIRT - with imprint (Team name and number)
---
${ $store.getters.currentItemVariation.variation.availability.names.name }
---
The Teamsportbedarf t-shirt is very well made and extremely tear-resistant. The material is suitable for printing, for example, advertising imprints. An ideal T-shirt for training, leisure and work! Simply select the desired size + amount and off you go. The price includes 2 imprints: number (front) and club name (rear). Here you can contact our graphics department, to let them know your request for the print: E-mail: grafik@teamsportbedarf.de. Ideal as training or warm-up shirt. Teams from German professional football use our products too. See for yourself!
Material: 100% cotton
single jersey (extremely tear-resistant),
Imprint: number (front) and club name (rear),
The color of printing: as desired (also colored),
Weight: 185 g / mᄇ,
Color: white
Contact graphics department: Email: grafik@teamsportbedarf.de,
Quality: top quality,
You receive a detailed invoice with every purchase!
Good luck with your training!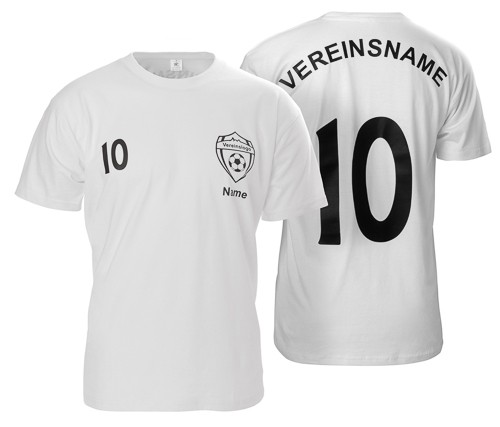 { "@context" : "http://schema.org/", "@type" : "Product", "@id" : "3248", "aggregateRating" : { "@type" : "AggregateRating", "ratingValue" : "3.00", "reviewCount" : "2" } }