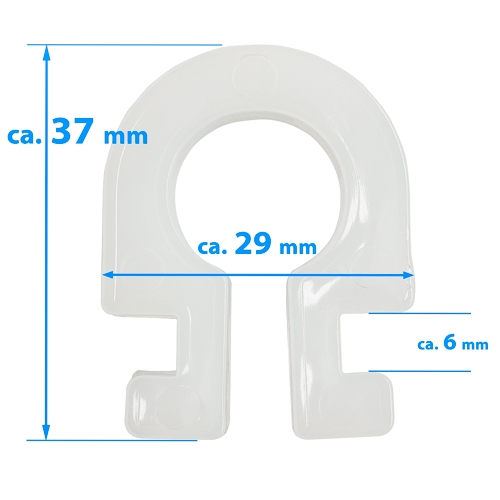 Net holder "mini goal" for goal nets - colour: white
A high-quality net holder made of plastic for all popular sports and goal sizes e.g. football goal nets, handball goal nets or mini goal nets. This net holder is intended for goals where the net is installed permanently. Due to the eyelets design the net does not get into direct contact with the goal and no friction arises between net and metal. The goal net is thus spared, and its durability is extended. Mounting is done by hand or with a pair of pliers. Hereby press the net holder vertically into the profile slot and then rotate it by 90°. The UV stabilized, robust plastic material provides year-long resistance against weathering and UV radiation. The price refers to one net holder. If you want to buy large quantities of this net holder, you can find the price scale below. You can also buy suitable goal nets, goals or mini goals in our shop. Professional trainers are our regular customers!
Product features:
Quality net holder "mini goal" for goal nets
Design: integral net attachment
Color: white
Size: see product images below
Material: UV stabilized plastic
Mounting: by hand or pliers
Mounting recommendation: one net holder for each 20 cm
Very weather resistant
Professional merchandise
Good luck with goal shots!
Goal net clips "mini goal" - white
Quality plastic goal net holder – graduated prices
---
EUR 0.50
*
Unit price
EUR 0.50 / piece
In stock. Order by 11 am, dispatch the same day.
---