You get a high quality carrying bag for the marker cones hurdles set, with a capacity of max. 10 marker cone hurdles (20 marker cones +10 hurdle poles 100 cm). The bag is durable and washable. A convenient transportation is possible by two straps. The price refers to one single carrying bag without content. The matching marker cones are also available in our shop.
Product details:
High quality
carrying bag for marker cones hurdle set 
Ideal packaging of 10 hurdle sets 
Capacity: 20 marker cones + 10 rods 100 cm - Durable material (washable) 
2 straps for easy transport 
Very strong 
Red color.
You receive a detailed invoice with every purchase!
Good luck with your training!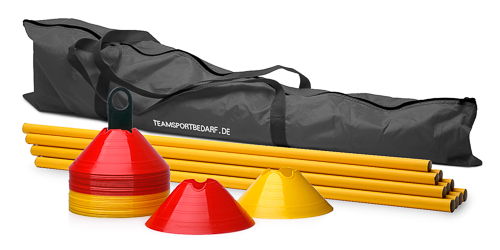 Sports equipment bag - for marker cones hurdle sets
Carrying bag for a marker cones hurdles set – high quality and solid
---
EUR 8.90
*
Unit price
EUR 8.90 / piece
In stock. Order by 11 am, dispatch the same day.
---