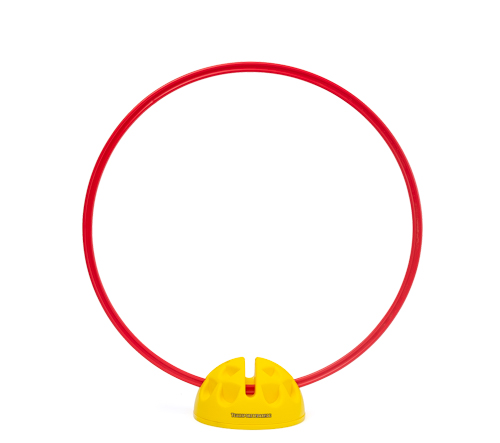 You will receive a combi X-foot for the combi hurdles system including an attachable ring (diameter: 40 cm). The combi X-foot can be easily combined with hurdle bars (25 mm diameter) and with coordination rings (see picture below). When filled with sand, this foot ensures a safe stand. The combi X-foot and ring are very high quality and stable. This combination system is ideally suited for precise shooting and throwing exercises. Included in each package is a combi X-foot and a red ring with a diameter of 40 cm. The matching hurdle rods to enhance the system, you can also buy in our shop.
Combi X-foot Color: Yellow
Diameter: 20 cm
Height: 12 cm
Ring color: Red 
Diameter: 40 cm.
You receive a detailed invoice with every purchase!
Good luck with your training!
Base for slalom bar or ring - Combi X incl. ring
Combi X-foot included 40 cm. Colour: yellow and red
---
EUR 7.90
*
Unit price
EUR 7.90 / piece
In stock. Order by 11 am, dispatch the same day.
---