You get a high quality replacement carrying holder for all types of marker cones, jumbo cones, etc., made of solid metal. It is designed for approximately 50 cones and is very solid. The price refers to one single carrying holder without cones. The matching cones can also be bought in our shop. Also coaches from the professional sector work with our products.
Product details:
Carrying holders for marker cones,
Material: Metal
Height: 27 cm,
Hole diameter of the cones : about 5 cm,
Suitable for: marker cones, jumbo cones, etc.,
Capacity: about 50 cones,
Color: white,
Weatherproof,
Very strong,
Versatile.
You receive a detailed invoice with every purchase!
Good luck with your training!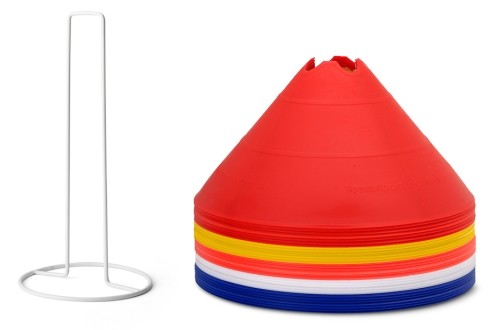 Carrying holder (metal) - for marker cones
Replacement carrying holder made of solid metal for marker cones
---
EUR 3.90
*
Unit price
EUR 3.90 / piece
In stock. Order by 11 am, dispatch the same day.
---