You get a set of hurdles consisting of 20 marker cones and 10 hurdle rods (1m length). The marker cones come in red and yellow, and you receive 10 of each. The cones are made of flexible synthetic and are therefore very durable. The cones are provided at the top with notches and can thus be combined with the 10 hurdle rods in yellow (length 1 m), easily becoming a mini hurdles system.
Delivery:
20 marker cones, red and yellow (10 of each).
Height: 7cm,
Diameter: 20cm,
Weight: approximately 45g.
10 hurdle rods:
Length: 1m,
Diameter: 2.5 cm,
Color: Bright yellow.
Very strong, versatile, and includes a carrying system.
You receive a detailed invoice with every purchase!
Good luck with your training!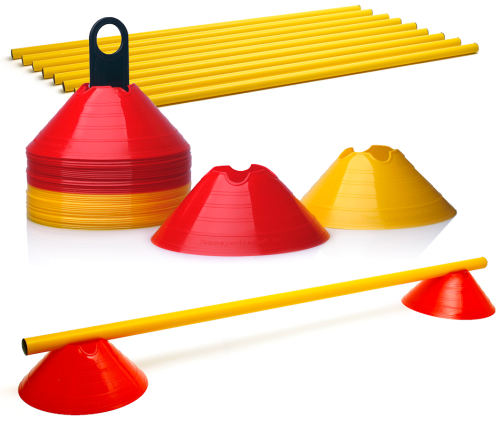 Training cones - hurdles set (10 hurdles)
20 marker cones +10 hurdle rods combined in top quality
---
EUR 26.90
*
Unit price
EUR 2.69 / piece
In stock. Order by 11 am, dispatch the same day.
---