You get 10 high quality hinged slalom poles made of synthetic, with a length of 120 cm and a diameter of 2.5 cm, which are ideally suited for the running and coordination training. The slalom poles from solid PVC are placed at the bottom in the supplied tilt foot, which is fixed in the field (stable maintenance). You get 10 yellow slalom poles and 10 tilt feet made of metal. The pole is flexible, tilts to the side at a contact and erects immediately back on. These poles are suitable for all ages and cheer up every training. If you set up several slalom poles in a row, you can perform an optimal movement and coordination training. The accessory training exercises can be found in our shop too.
Amount: 10 poles + 10 tilt feet,
Color: yellow (poles) and silver (tilt feet),
Length: 120 cm,
Diameter: 2.5 cm,
Material (poles): stable and solid PVC Material (tilt feet): metal .
You will receive a detailed invoice for every purchase!
Good luck with your training!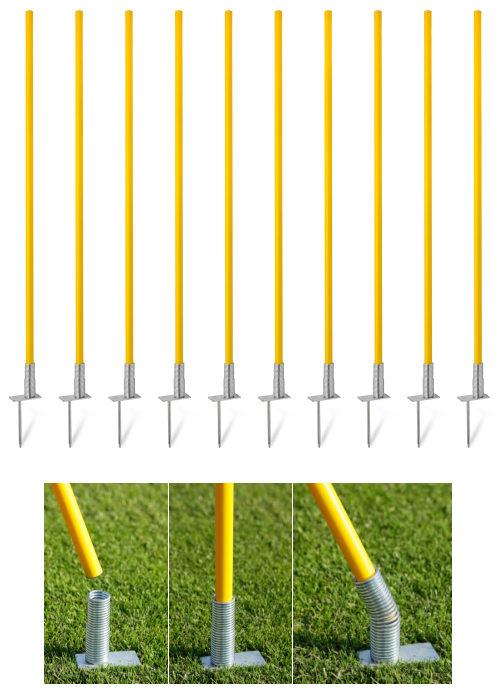 Flex slalom poles (1.20 m) - set of 10 slalom poles with hinge
10 yellow hinged slalom poles in a set, height 120 cm
---
EUR 69.90
*
Unit price
EUR 6.99 / piece
In stock. Order by 11 am, dispatch the same day.
---