3 m Modern jump rope (3 m) - skipping ​​rope
You get a modern jump rope (skipping rope) of plastic, for extremely fast rope jumping. The rope is about 3 meters long (standard length) and weighs about 100 g. The ideal instrument to warm up and the training of endurance or speed. The skipping rope is available in neon colors: blue, yellow and green. The grips can be adjusted to the ideal length. The matching exercises can also be bought in our shop. With our products already work teams from the professional sport.

Product features:
Senior jump rope (speed rope)

Rope length: 3 m (on ideal length adjustable)

Color: Blue, yellow and green (neon colors)

Weight: 100 g

Material: PVC

Condition: 1A
Good luck with your training!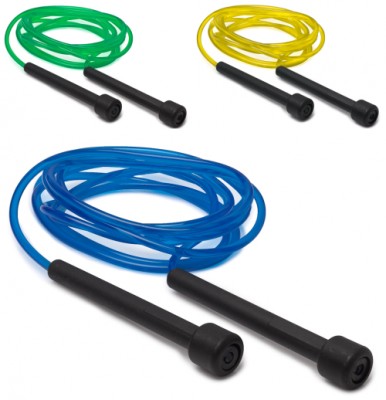 3 m Modern jump rope (3 m) - skipping ​​rope
3 m long jump rope (skipping ​​rope) – 1A quality
---
---