30x Running weights à 250 g – team kit (15 pairs)
You get modern running weights in professional quality in a team set. These are ideal for jogging, walking, aerobics and Tae Bo also. The hand or ankle weights have a practical velcro closure with metal handle and can be optimally fixed on wrist or ankle. They are effective for muscle building. Train your arm and leg muscles while improving your stamina. The price refers to 30 pieces running weights of 250 g each. This weights will be delivered in the color red and are high quality. The matching exercises can also be bought in our shop. Professional teams already train with these products!

Product features:
15 pairs of running weights 

Weight 250g each

High quality

Durable and practical, with a velcro closure and metal bracket

Comfortable to wear

Easy to clean and skin-friendly

Made from nylon fabric

Color: Red

For use with arms or ankles


 
Suitable accessories:
Weighted vest 10kg - including 18 weights: Here
2x 500 g (pair) Running weights - cuff weights: Here
Home workout: Here
Good luck with your training!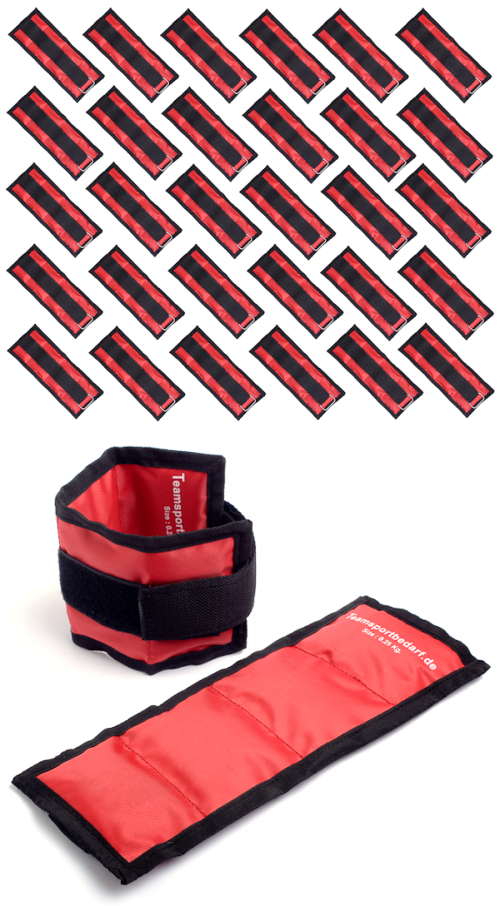 30x Running weights à 250 g - team kit (15 pairs)
Cuff weights for jogging, walking and aerobic
---
EUR 49.90
*
Unit price
EUR 1.66 / piece
In stock. Order by 11 am, dispatch the same day.
---