FOOTBALL - TRAINER SET 2 (tactical map + workbook + notebook + notepad + game observation sheets)
---
${ $store.getters.currentItemVariation.variation.availability.names.name }
---
FOOTBALL - TRAINER-SET 2
high-quality trainer set with modern training equipment
High-quality trainer set
You get a high-quality trainer set for the modern football trainer, consisting of tactical maps (leather), trainer-workbook incl. accessories, the notebook (80 pages), notepad (50 pages) and a pack of 20 game observation sheets. All 5 items can also be purchased individually in our store. Coaches from the professional areas work with our products.
Contents of set:
·Tactical map (leather)
Trainer workbook (500 pages)
Trainer notebook (80 pages)
Trainer notepad (50 pages)
Game observation sheets (Pack of 20)
3 high quality metal ball pens
1 board marker (black)
Good luck with training!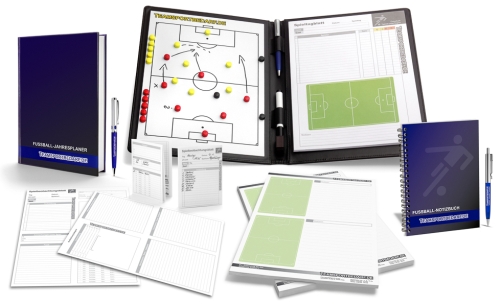 { "@context" : "http://schema.org/", "@type" : "Product", "@id" : "1788", "aggregateRating" : { "@type" : "AggregateRating", "ratingValue" : "4.33", "reviewCount" : "24" } }