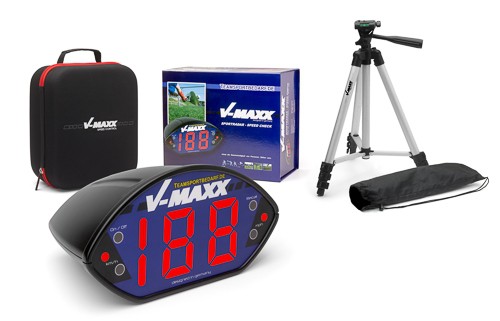 You get a sports radar including tripod, which enriches every workout and that is variably designed. The V-MAXX is versatile and easy to use. Lightning fast speeds are calculated with the use of Doppler radar measurement and are prominently displayed. V-MAXX is extremely reliable and easy to use. In training, V-MAXX can motivate higher performance, by measuring the sprint or the shooting power in football, for example. V-MAXX has a special highlight for events and show. A measurement of the shooting power can turn normal shooting practice special competition and guarantees fun.
The operating principle:
V-MAXX has Doppler Radar capability. When switched on, it sends out waves with a wavelength of 24.150 GHz. If they hit the moving object, the waves are sent back. From the time difference until the arrival of the reflected waves, the device calculates the distance. From a variety of measurements per unit of time, it determines the variation in the distance and it quickly calculates the speed. The maximum speed is 1.5 km/h. The emitted waves can penetrate into various materials by the high frequency; thus, a measurement behind nets is possible.
Purposes:
Football
Handball
Running or Inline skating
Skiing, sledding
Model racing track
To measure your speed or the speed of an object place V-MAXX so that you or the subject is moving towards it. Note that people (e.g. a goalkeeper) or an object between V-maxx and the detection area can hinder the measurement. Large detection angle Best accuracy in an opening angle of 80 degrees in front of the V-MAXX.
Product Features:
Dimensions: ca. 235 x 120 x 70 mm
Weight: 500 g (without batteries)
Measuring range: up to 199 km/h
Detection: 80° vertical, 30° horizontal (to about 5 meters)
Accuracy: +/- 1.5 km/h -10°C - + 50°C
Frequency: 24, 150 GHz
Batteries: 4 x LR14 (not included)
Includes recall function (to access the preceding velocity) and a control function:
When you turn it on, all LEDs light up.
When not used, the V-MAXX switches off automatically after 15 minutes.
Tripod: Furthermore, you get a high quality tripod for the V-MAXX Sport Radar.
The stand is solid and can be used in outdoor applications. The working height can be varied from 41.5 to 125 cm. A bag for the tripod is also included.
Product details:
High quality tripod for V-MAXX Sport Radar Working
Heights: 41.5 to 125 cm
Material: Aluminium and PVC
Has 4-stage legs 3-way panoramic top and quick coupling plate, with height adjustment of the center column possible.
Adjustable top in all directions
Rubber feet
Weight: 650 g
including carrying bag.
V-MAXX and stand may be purchased separately in our shop
Follow this link for operation instructions!
You receive a detailed invoice with every purchase!
Good luck with measuring!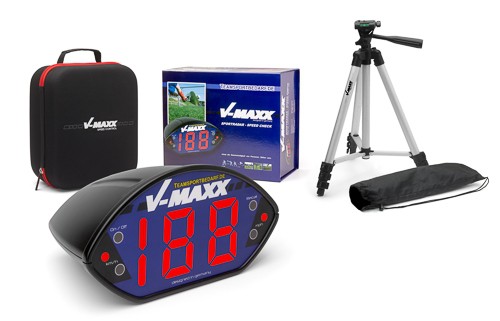 V-MAXX sport speed radar - SPEED check incl. tripod
High quality Sport Radar Speedometer incl. tripod
---
EUR 109.90
*
Unit price
EUR 109.90 / kit
In stock. Order by 11 am, dispatch the same day.
---