Safety vest – with customized prints (EN471)
You will recieve a safety vest with your customized imprint. The safety vest is very well processed and extremely tearproof. The material can be printed on easily, e.g. for advertising imprints. (Attention: white imprints are generally not possible. All white elements come out in the colour of the background.) The following colors are available: neon yellow, orange, red, pink and white. Whether children or adults, there is the right size for all (size S suitable for children from 6 - 12 years). You can e-mail the desired imprint to our graphics department:grafik@teamsportbedarf.de. The price refers to one safety vest with one-sided imprint. In our online-shop you can also find safety vests without imprints. Professional teams buy from us, too.
Product features:
Safety vest (EN471) with the desired imprint

Size S: kids (width: 45 cm, length: 48 cm)
Size XL: adults (width: 66 cm, length: 66 cm)
Size 3XL: adults (width: 72 cm, length: 70 cm)

Colors: neon yellow, orange, red, pink and white

Material: polyester

Fastener: velcro

Features: reflective stripes all around

Packaging: single in plastic bag

Certificates: approved according to EN471

Imprint: one- or two sided, also possible in colour

Imprint types: text, logo, emblem, number, advertising, etc.

Quality: tearproof, quality processed
Suitable accessories:
More vests you can find: Here

CUSTOMISING:
Customised prints: Whether it's a position, names, numbers, sponsor, logos, fonts etc., just let us know by e-mail: personalise@teamsports.com. You will receive a detailed invoice with every purchase!
Please always send us your club logos or other logos as vector images. For complicated logos or images, we charge an additional fee.

Good luck with your training!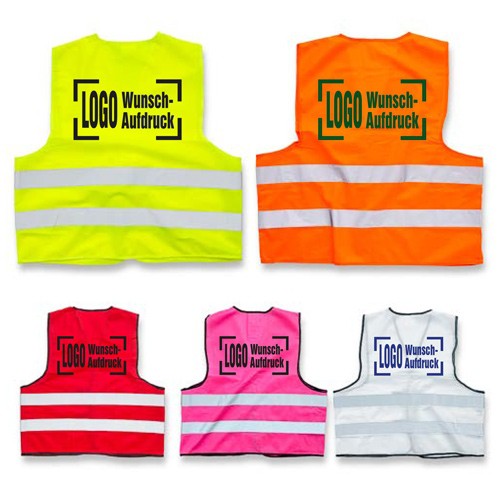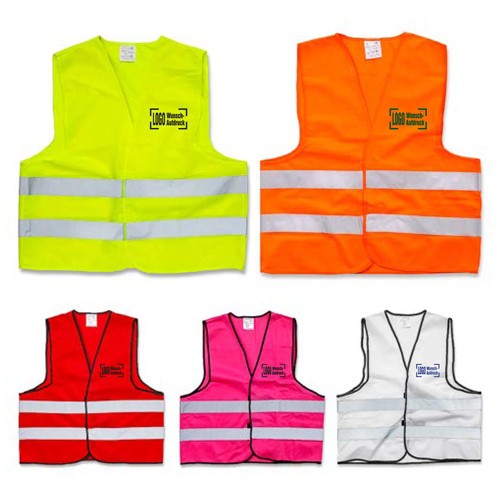 Safety vest - with customized prints (EN471)
Logos, emblems, numbers, advertising, etc.
---
EUR 5.20
*
Unit price
EUR 5.20 / piece
Deliverable within 3-5 days.
---