Vinyl Dumbbells 2 pieces - top quality
---
${ $store.getters.currentItemVariation.variation.availability.names.name }
---
You get high quality vinyl dumbbell set (2 pieces) in studio quality. The weights are in 9 different weight classes (0.5-5 kg) and colors. The dumbbells are both for muscle training as well as in fitness, aerobics and rehab. Training with dumbbells is ideal for the creation and maintenance of many muscle groups such as biceps, triceps, burst, etc. With regular practice you not only achieve success in building muscles but also burn body fat efficiently. The dumbbells have a non-slip surface, and their angular shape prevents them from rolling away. Just select the desired weight level above and add it to the cart. The price refers to a set of 2 vinyl dumbbells. Other interesting training tools can also be bought in our shop. Professional clubs also buy from us!
Product features:
Vinyl dumbbells
Set of 2. 9 different weights and colors.
Non-slip surface
angular shape prevents rolling away.
Odorless and dirt resistant thanks to high quality processing.
Studio quality.
Weight levels/Colors:
2x (0.5 kg pink)
2x 0.75 kg (yellow)
2x 1 kg (light green)
2x 1,5 kg (purple)
2x 2 kg (orange)
2x 2.5 kg (blue)
2x 3 kg (red)
2x 4 kg (dark green)
2x 5 kg (black)
You receive a detailed invoice with every purchase!
Good luck with your training!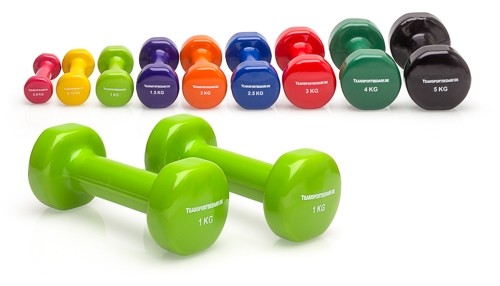 { "@context" : "http://schema.org/", "@type" : "Product", "@id" : "18302", "aggregateRating" : { "@type" : "AggregateRating", "ratingValue" : "5.00", "reviewCount" : "2" } }