Rebounder (rebound wall) - 88 x 88 cm
A rebounder which can be used in many training areas (e.g. goalkeeper and technique training). The rebounder (return wall or rebound wall) can be adjusted in different angles and fixed (new: with fixing bar) to achieve optimal training results. It is designed so that the ball bounces off it and is then used according to the trainer's objectives. The Rebounder is foldable and can therefore be transported quickly and easily. You will receive a modern training device with the dimensions 88 x 88 cm (W x H). The Rebounder will be delivered to you complete as shown, including fixing hooks for the floor, fixing rod and anti-slide system for the hall. You will find the matching training card libraries and other rebounders in our shop. Trainers from the professional sector also work with our training aids!
Product details:
rebounder (rebound wall)
fixing rod for fixing the angles
anti-slip system for firm hold
can be used on grass, artificial grass and indoors
dimensions: approx. 88 x 88 cm (W x H)
material: sturdy metal frame and high-quality rebound net
absolute professional product with super bouncing effect
Self-training exercises for the summer or winter break:
passing and fetching techniques high or flat
volley juggling on the wall (= volley techniques)
goalkeeper techniques: Catching the bounce back balls
partner exercises e.g. football squash
Good luck with your training!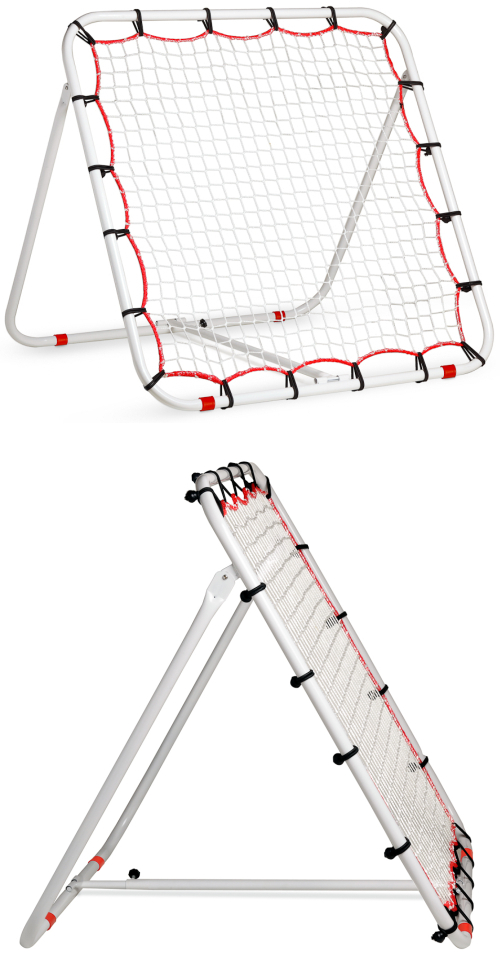 Training rebound wall - adjustable – now with many new features!
---
---