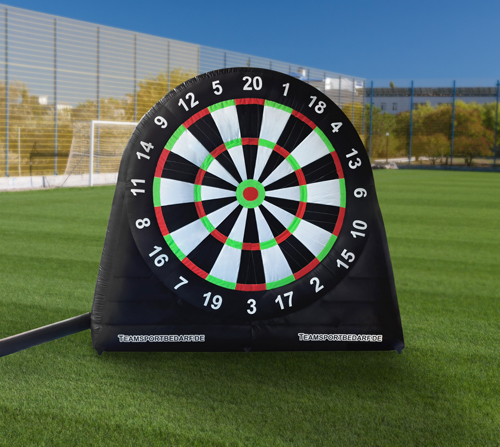 Inflatable soccer dart board game XXL - 3 x 3 m
You will receive a high-quality giant soccer dart board game XXL - an inflatable football dartboard measuring 3x3 m. This robust XXL soccer dart board combines the fun of playing football with the precision of darts and is therefore the eye-catcher of any party - no event will be boring anymore. The cool soccer dart board game is a combination of soccer and darts - a football game that is all about precision. The XXL dart board game has a layer of velcro on which the included velcro balls stick very well! This set includes all necessary mater-ials for assembly, dismantling and transport. Thanks to the powerful blower and the included ground anchors, you can set up the inflatable soccer dart board game in approx. 10 minutes. Will you have the next 9 darter just like Phil Taylor?! More exercises, training balls and other training aids can also be found in our web-shop. Professional sports teams already train with our products!
You can find detailed assembly instructions to download: Here
Product features:
 
Football darts XXL set

Incl. 6 balls (3x yellow, 3x blue)

Incl. blower (550 W)

Incl. 4 ground anchors XL (metal)

Incl. repair kit

Incl. carrying bag

Dimensions (assembled): 3x3 m

Assembly time: approx. 10 minutes (1 person)

Weight: approx. 15 kg

Material: durable Oxford fabric

weatherproof, tear-resistant

Professional product
Always fun for a friends' evening, staff party or, of course, for the football club!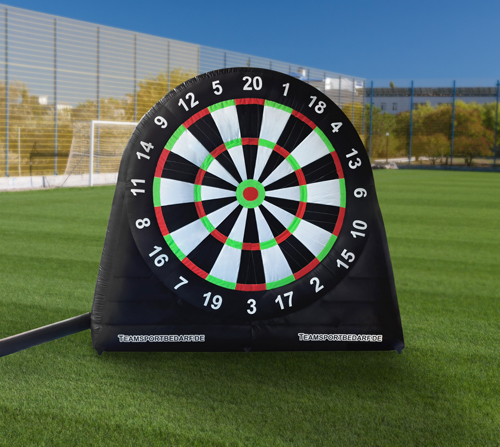 Inflatable soccer dart board XXL - 3 x 3 m
Foot Darts XXL incl. balls, blower, ground anchor and repair kit
---
EUR 699.90
*
Unit price
EUR 699.90 / piece
In stock. Order by 11 am, dispatch the same day.
---