Sport Tape - Tape Band (3.8 cm x 10 m) Colour: White
---
${ $store.getters.currentItemVariation.variation.availability.names.name }
---
You get high quality sports tape with the dimensions 3.80 cm x 10 m. The white tape is made of inelastic cotton and can ripped very easily by hand. Due to its high adhesive strength, the tape is well suited for use in orthopedic care and physiotherapy, as well as muscle, ligament, tendon, and joint injuries prevention. Functional support and protection bandages can also be applied with the sports tape. It is solvent-free and skin friendly. Coaches from the professional sector work with our products. The price 1,50 EUR refers to a single role sporttape (3.80 cm x 10 m). Simply by changing the package size, you can select following packagings: 1 roll, 5 rolls, 10 rolls and 50 rolls.
Product details:
Sport tape,
Color: white,
Each roll: 3.80 cm x 10 m,
Material: high quality inelastic cotton.
Can be ripped by hand very easily.
High adhesive strength,
solvent-free, and skin-friendly.
For support and protection bandages.
You receive a detailed invoice with every purchase!
Good luck with your training!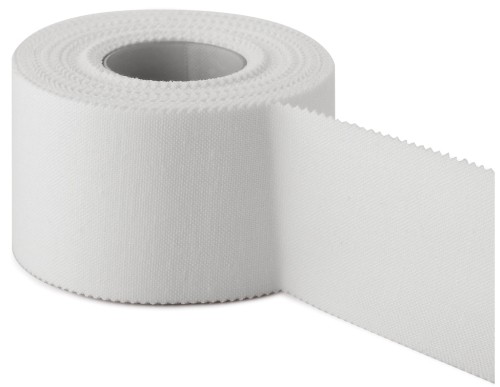 { "@context" : "http://schema.org/", "@type" : "Product", "@id" : "1483", "aggregateRating" : { "@type" : "AggregateRating", "ratingValue" : "4.48", "reviewCount" : "245" } }