Training Belt 4 - reaction training
---
${ $store.getters.currentItemVariation.variation.availability.names.name }
---
You get a modern training tool for optimal training of reaction. The training belt has 2 waist belts, which are connected by a 1.50 m long tension rope. The tension rope is connected in the middle by 2 velcro fasteners. The aim of the training is that both athletes connected by the fasteners must be close enough during the exercise - if not (or when the belt gets too much tension), the exercise was not performed correctly and shows room for improvement. Exercises can be executed forward, backward, with a ball or without a ball. The training belt allows each 2 athletes optimal training of reaction simultaneously. The matching application exercises can be found in our DVD's and training catalogue. Coaches from the professional sector also work with our products.
Product details:
Training Belt to aid in training reaction ability.
Includes 2 waist belts and tension rope.
Training device for 2 persons
Length of tension rope: 150 cm, connected in the middle by 2 velcro fasteners.
Tension rope is not made of bungee
Color: Black,
Training focus: Improvement of reaction ability, running and coordination training. For use with rapid short sprints, explosive strength, endurance, skillfullness, acceleration partner exercises, etc.
You receive a detailed invoice with every purchase!
Good luck with your training!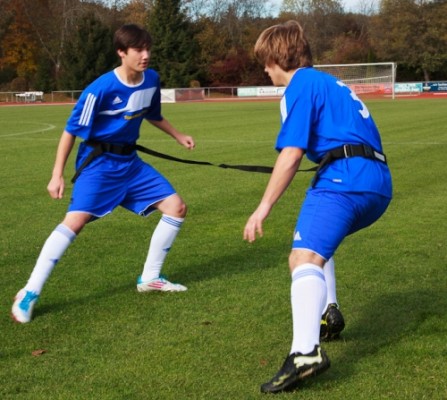 { "@context" : "http://schema.org/", "@type" : "Product", "@id" : "1662", "aggregateRating" : { "@type" : "AggregateRating", "ratingValue" : "4.14", "reviewCount" : "7" } }