Sprint Belt 3 - Sprint Training (Short version)
---
${ $store.getters.currentItemVariation.variation.availability.names.name }
---
You get a modern training tool for an optimal sprint and speed power training. The Sprint Belt has a shoulder strap that one athlete covers while another person holds the other end of the rope. The athlete can now sprint while the other creates and increases resistance, depending on the training goal. The Sprint Belt allows the athlete to sprint with variable resistance to achieve an optimal training effect. You will receive a training device that enables two athletes to train simultaneously (includes shoulder strap; see chart). This short version (80 cm) makes very intensive sprint training possible. The matching application exercises can be found in our DVDs and training catalogue. Coaches from the professional sector also work with our products.
Product details:
Sprint Belt, short version (80 cm);
Training with resistance.
Includes shoulder strap and holding unit.
Training device for 2 persons.
Length of rope: about 80 cm (rope is not made of bungee),
Color: Black,
Training focus: Improvement of explosive strength, sprint and reaction training, muscle strengthening, explosive strength endurance, etc. Also useful for the goalkeeper training, acceleration partner exercises, etc.
You receive a detailed invoice with every purchase!
Good luck with your training!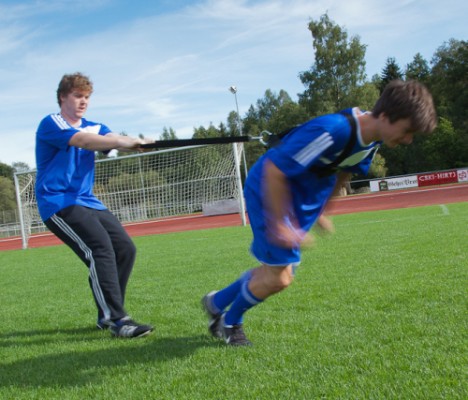 { "@context" : "http://schema.org/", "@type" : "Product", "@id" : "1653", "aggregateRating" : { "@type" : "AggregateRating", "ratingValue" : "4.63", "reviewCount" : "8" } }